Canine CRP in the clinical setting
CRP is one of the major acute phase proteins produced by the hepatocytes in the liver as a response to inflammation2. Basal CRP levels are very low, but rise substantially during inflammation. The acute phase response is activated very quickly and increased CRP levels can often be detected even before the onset of the clinical signs1. CRP is secreted into the bloodstream and the concentration increases by 100-1000 times during the acute phase, starting to raise within only 6 hours after disease onset reaching maximum levels after 24-48 hours2,3. Canine CRP can not only be analysed to detect and quantitate the degree of systemic inflammation, but also to monitor the treatment response of the patient. If the cause of inflammation is successfully removed, the serum CRP levels drop rapidly due to its half-life of about 19 hours4. The levels of CRP will thus directly reflect the extent of inflammation.
Compared to classical inflammation markers, such as WBC (white blood cell count) and ESR (erythrocyte sedimentation rate), CRP has been shown to have higher sensitivity and better monitoring abilities. This is due to the rapid reduction in CRP levels compared to WBS and ESR when the patient receives efficient treatment5.
Due to the fast expression of canine CRP in cases of inflammation, CRP is also often used for prognostic purposes. One example is monitoring dogs after surgery when they are especially prone to infection6.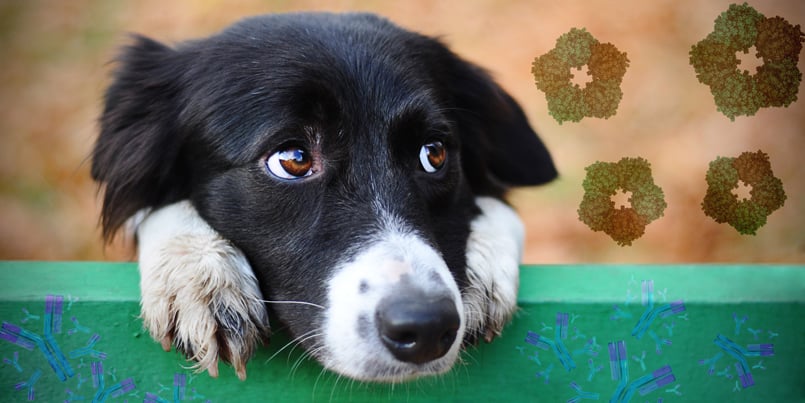 Canine CRP in the laboratory setting
The Gentian Canine CRP Immunoassay is rapidly performed in only 10 minutes and can be run on all major clinical chemistry instruments. The assay has a wide measuring range from 10-300 mg/L, with a security zone up to 1000 mg/L. Healthy dogs usually have levels below 10 mg/L with the Gentian Canine CRP Immunoassay. The CRP biomarker is often included in canine health screening profiles, at the same time as being offered as a stand-alone test.
Canine CRP is, in contrast to human CRP, glycosylated at two of five subunits of the CRP protein7. One of the major benefits of the Gentian Canine CRP Immunoassay is the use of canine-specific CRP antibodies produced using the CRP antigen from canine origin in the immunisation process. This leads to antibodies with lower batch-to-batch variability than the CRP antibodies of human origin, as those will have varying degrees of cross-reactivity towards canine CRP8.
The Gentian Canine CRP Immunoassay utilises avian antibodies obtained from the egg yolk of immunised hens, the assay has therefore the advantage of providing reduced interference with mammalian rheumatoid factors, mammalian IgG antibodies, and bacterial or mammalian Fc receptors, compared to assays utilising mammalian antibodies9.