Congestive Heart Failure and NT-proBNP
Heart failure is a global health issue affecting more than 26 million people worldwide. The prevalence of heart failure is increasing rapidly due to the ageing population and increasing number of obese persons.
NT-proBNP is a standard blood test for individuals suspected of having congestive heart failure (CHF) where measurements of NT-proBNP are used as an aid in the diagnosis and assessment of severity.


Brain natriuretic peptide (BNP)
Brain natriuretic peptide (BNP) is a hormone that is secreted by cardiomyocytes (cardiac muscle cells) in the heart ventricles in response to stretching caused by cardiac wall stress. BNP forms part of the natriuretic peptide family, along with the two other natriuretic peptides, ANP and CNP. Together, the natriuretic peptides promote urine secretion, relax the blood vessels, lower the blood pressure, and reduces the heart's workload.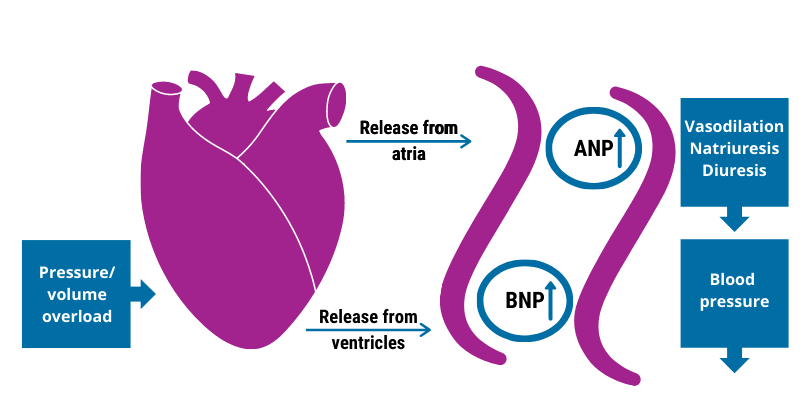 ANP and BNP secretion from the myocardium is stimulated by mechanical stress and/or neurohormonal stimulation. This illustration is adapted from Semenov AG, Feygina EE. Standardization of BNP and NT-proBNP Immunoassays in Light of the Diverse and Complex Nature of Circulating BNP-Related Peptides. Adv Clin Chem. 2018
BNP and the N-terminal part of the BNP precursor molecule, NT-proBNP, are established, benchmark diagnostic and prognostic markers for myocardial function. BNP and NT-proBNP have high negative predictive values, and clinical guidelines recommend measuring either BNP or NT-proBNP to rule out heart failure1. The clinical cut-off levels are low, however, the reference range for NT-proBNP vary with age and gender. Women have higher NT-proBNP levels than men, and the concentration of NT-proBNP also increases with age. The expected NT-proBNP can also be used to monitor treatment for patients with chronic heart failure2, and for prognosis of heart failure.